London Tech Conferences
London Technology Week
Big Data Week
Digital Shoreditch
Mind the Product
Wired Event
Noah Conference
Silicon Valley Comes to the UK
Changing Media Summit
SuperMeet
SES London
Internet World
London Film and Media Conference
INTECH
Cloud World Forum
Search Love
BACON
LeWeb
Consult Hyperion
Internet Librarian International
The Big Data Show London
ICITST
In partnership with

SES London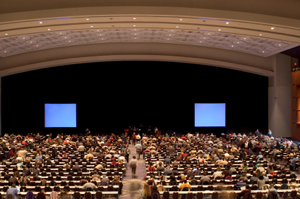 The SES London Conference and Expo explores a variety of digital marketing topics, including social media and demand generation. Web analytics, SEO, e-commerce, and other marketing and advertising topics are also considered and discussed at the event. Speakers, delegates and exhibitors use the conference as an opportunity to share emerging and proven concepts and ideas. Held each year in Central London, the conference is one of several global Search Engine Strategies (SES) Conference and Expo events. Similar conferences are organised throughout the year in major cities around the world, including Shanghai, Toronto, Berlin, San Francisco, Chicago, Singapore, New Delhi, New York and Hong Kong.
About the Conference
The SES Conference and Expo series is a leading international event that is focused on search and social marketing. The conference series explores and examines best practices and approaches to digital marketing by bringing together industry leaders and experts. The SES Conference and Expo events are opportunities for professionals and innovators to explore digital marketing tools and share knowledge. The conference is designed for a variety of industry leaders and professionals, including marketing professionals, brand advertisers, business leaders and marketing agencies. A companion expo is held in combination with the conference featuring vendors from across Europe and around the world.
History
Since its founding in 1999, SES has emerged as a leading search and social marketing event. Conferences are designed by leading digital marketing practitioners and industry thought leaders. A main goal of the SES Conference and Expo is education through workshops and panel discussions. Additional activities include networking opportunities for delegates, presenters and exhibitors to build new and stronger business partnerships. Events are also an opportunity to share experiences and knowledge.
The SES Conference & Expo was first held in London in 1999. The three-day conference attracts over 2,000 participants each year in February. Keynote speakers at the 2013 conference included Microsofts' Chief Envisioning Officer Dave Coplin, Twitter's UK Head of Agency Sales Dara Nasr, and the founder of aimClear Marty Weintraub. Presentations covered a range of digital marketing topics, including segmentation, integrated marketing, social media, content-driven SEO and SEO metrics, mobile marketing, and creative content marketing.
Sponsors
Sponsors for the SES Conference represent leading information technology firms, including SEO and software innovators. In 2013, the event's main sponsor was Marin Software. Additional sponsors and exhibitors included Adobe, Adthena, Brightedge, Aurion, Doubleclick Search by Google, Bing, TextBroker, SEOClarity, Linkdex, Majestic SEO, OPSEOs, Vocus Marketing Software, Trusted Proxies, and SEOmoz. Additional sponsors included the Association of Online Publishers (AOP), SEMPO, and the Web Marketing Association (WMA). Media partners for the 2013 conference included Chinwag, State of Search, Mixing Digital, Wordtracker, elitebusiness, and TopRank Online Marketing.
Conference Location
The SES London Conference and Expo is held at The Queen Elizabeth II Conference Centre. The conference centre was opened in 1986 and hosts approximately 400 events each year. Situated in Westminster, the conference centre is within walking distance of Big Ben and Westminster Palace, Westminster Abbey, and the River Thames. The venue is located between the Westminster and St. James's Park tube stations, and easily accessible by road, tube, rail and bus. Several hotels are also within a short walk or commute from the conference site. Charing Cross and Victoria rail stations are less than one mile from the conference centre, and Waterloo station is one mile away.
Conference Registration
To register for the SES London Conference & Expo, visit the event's website at www.sesconference.com/london. The conference is open to business professionals, and business card and photo identification is required for admission. Delegates must also be at least 18 years of age.
Transport to the event: We recommend that you check the Transport for London site journey planner. If travelling by car check and/or pay the congestion charge here. If you would like to travel by car but do not yet have a license visit this site for a list of London driving schools.