London Tech Conferences
London Technology Week
Big Data Week
Digital Shoreditch
Mind the Product
Wired Event
Noah Conference
Silicon Valley Comes to the UK
Changing Media Summit
SuperMeet
SES London
Internet World
London Film and Media Conference
INTECH
Cloud World Forum
Search Love
BACON
LeWeb
Consult Hyperion
Internet Librarian International
The Big Data Show London
ICITST
In partnership with

LeWeb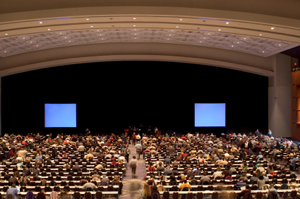 LeWeb is one of the principal conferences on Internet entrepreneurship and innovation at European level. LeWeb London is a two-day event held during the month of June. LeWeb's first edition took place in 2009 in Paris.
This conference was created with the aim of becoming a point of reference for every professional involved in digital technologies. To achieve that, LeWeb brings together entrepreneurs, CEOs, investors, students, and data analysts from companies like KPMG, CapGemini, Telecom Italia, American Express, Axel Springer, Deloitte, DataSift, Google, and Which? magazine.
The conference program features a series of keynote speeches, pitches, demos, and presentations on topics such as the collaborative economy, social engineering, the potential uses of gaming and social network applications, consumer behaviour, cloud computing applications, funding and finance in the sharing economy, and customer engagement. The event is also known for its start-up competition, which leads to the award of three prizes for those who present the best mobile marketplace applications.
Entrepreneurs Loic and Geraldine Le Meur came up with the original concept behind LeWeb. Together, they have more than 25 years of experience in marketing, web hosting, and business management.
Location and Transport Links
Le Web is held at the Westminster Central Hall, located on Storey's Gate and just across the Houses of Parliament. The venue can be accessed by public transport via the underground stations at Westminster, Victoria, and St James' Park. The nearest car park is in Tothill Street.
Speakers
Some past speakers worth mentioning include Eze Vidra (head of campus at Google), Joanna Shields (chief executive at Tech City), Joe Gebbia (co-founder of Airbnb), Chad Dickerson (CEO for Etsy), Jeremy Stoppleman (founder of Yelp), Francine Lacqua (editor at Bloomberg Television), David Rowan (editor at Wired UK), and Matt Brittin (president of Google in northern and central Europe).
Major Sponsors
Sponsorship is available in three categories (platinum, gold, and silver). Notable sponsors include Google, HP, DataSift, the Swedish Trade and Investment Council, and Nyse Euronext. The event is also supported by media partners like CNN, The Guardian, Euronews, and the Tech City Insider.
Contact details and Further Information
To find out more about this event, you can visit its official website at http://london.leweb.co/ Registration enquiries can be sent to info@leweb.co
For further information on the venue and on how to get there, contact the Westminster Central Hall on +44 (0)20 7222 8010.
Transport to the event: We recommend that you check the Transport for London site journey planner. If travelling by car check and/or pay the congestion charge here. If you would like to travel by car but do not yet have a license visit this site for a list of London driving schools.