London Tech Conferences
London Technology Week
Big Data Week
Digital Shoreditch
Mind the Product
Wired Event
Noah Conference
Silicon Valley Comes to the UK
Changing Media Summit
SuperMeet
SES London
Internet World
London Film and Media Conference
INTECH
Cloud World Forum
Search Love
BACON
LeWeb
Consult Hyperion
Internet Librarian International
The Big Data Show London
ICITST
In partnership with

Cloud World Forum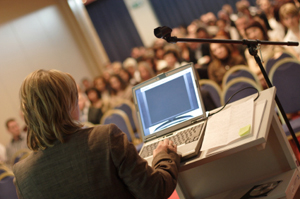 The Annual Cloud World Forum examines the impact of cloud computing on business. The event brings together over 200 industry experts and leaders to share their experience with and knowledge of cloud computing and technology. In addition, over 150 solutions providers showcase their innovation at an accompanying exhibition.
About the Cloud World Forum
The Cloud World Forum attracts some 5,000 attendees interested in cloud computing and enterprise. The conference is an innovative forum for private and private sector players, from small and medium enterprises to global companies. Seminars and presentations examine trends and proven cloud solutions. Best practices in integrating cloud computing into business models, cloud transformation and the latest cloud solutions, such as private cloud hosting, are some of the topics considered at the Cloud World Forum. Big data and analytics solutions, as well as the future of information technology are also considered at the two-day conference.
First held in 2009 as the Cloud Computing World Forum, the event has emerged as one of Europe's leading cloud-focused conferences. Since 2012, the event has been held in parallel with the Big Data World Congress at the Olympia London. The Cloud World Forum in an opportunity to discuss and explore cloud computing and enterprise information technology. Major sponsors of the event include HP, Google, Box, Canopy, Citrix, Cordys, Dell, Interoute, Oracle, Rackspace, SoftLayer, Telstra Global, and VCE. Speakers feature executives of leading technology companies, including Dr. Jeff Jafe of World Wide Web Consortium, BP's Dana Deasy, and Oskar Stal from Spotify. It is held each year in late June.
Venue Information
The Cloud World Forum is held at the Olympia London National Hall in South Kensington. Originally opened in 1886, the historic event venue and conference centre is operated by EC&O Venues. It is situated close to the Kensington (Olympia) rail station, which is served by the London Overground and Underground. Shepherd's Bush, Earl's Court, West Brompton, West Kensington, Barons Court and Hammersmith tube stations are also within a short walk of the conference site. Although public transportation is the best means to arrive at the conference centre, parking is available at Earl's Court.
Registration Information
There is no charge to attend the Cloud World Forum in London. Online registration and further information about the conference is available via the event's website at www.cloudwf.com. General enquiries may also be directed by calling 0845 519 1230.
Transport to the event: We recommend that you check the Transport for London site journey planner. If travelling by car check and/or pay the congestion charge here. If you would like to travel by car but do not yet have a license visit this site for a list of London driving schools.