London Tech Conferences
London Technology Week
Big Data Week
Digital Shoreditch
Mind the Product
Wired Event
Noah Conference
Silicon Valley Comes to the UK
Changing Media Summit
SuperMeet
SES London
Internet World
London Film and Media Conference
INTECH
Cloud World Forum
Search Love
BACON
LeWeb
Consult Hyperion
Internet Librarian International
The Big Data Show London
ICITST
In partnership with

The Big Data Show London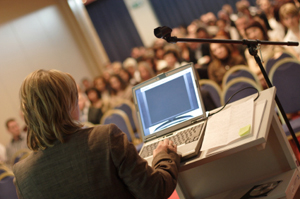 Big Data Weeks is a unique global event that connects communities through local events focused on data. Events explore big data's social, political, technological and commercial impacts on our world. London is one of more than 25 cities that hosted Big Data Week events in 2013. Hundreds of events worldwide bring together businesses and practitioners in commercial, financial, social and technology sectors.
About Big Data Week
Big Data Week connects data specialists in a variety of private and public sector industries, including health and science, finance, retail, media and entertainment, and social. Founded in 2011, Big Data Week was developed by Stewart Townsend as a means to connect global data communities. The event is produced by media140 Worldwide, which organises workshops and conferences that promote innovation, sharing and learning in social and digital technologies.
Events during the London Big Data Week included a variety of conferences, workshops, online events, and meet-ups. Events feature keynote speakers, case studies and discussion panels, and networking opportunities. Each year, the Big Data Week programme examines a variety of topics and themes, including the value of data, data driven public services, big data in banking, data driven decision making, and data as culture. In addition to media140 Worldwide, sponsors for London's Big Data Week in 2013 included Sparx, Chinwag, Big Innovation Centre, Import IO, the Economic & Social Research Council (ESRC), iCity, the O'Reilly Strata Conference, and the Greater London Authority.
Venue Information
In April 2013, 25 cities hosted over 175 events worldwide in a week-long global festival. More than 20,000 people participated in events around the world, including in Amsterdam, Chicago, New York, Madrid, Berlin, Toronto, Perth and Kuala Lumpur. Events in London are hosted at a variety of venues throughout the city. Putting Data to Work, a one-day conference and a central event during the 2013 Big Data Week, featured presentations, workshops and case studies in the Sir Alexander Fleming Building at the Imperial College. Similarly, the three-day Big Data Show and Conference was held at Earls Court Two exhibition and conference centre. Additional venues included The Refinery, Canary Wharf and New Zealand House. All venues are linked to public transportation, including local bus services and tube stations within walking distance.
Registration Information
Registration is possible for individual workshops, conferences, meet-ups and other events that form London Big Data Week. For information about events and registration information, visit www.bigdataweek.com/london.
Transport to the event: We recommend that you check the Transport for London site journey planner. If travelling by car check and/or pay the congestion charge here. If you would like to travel by car but do not yet have a license visit this site for a list of London driving schools.