London Tech Conferences
London Technology Week
Big Data Week
Digital Shoreditch
Mind the Product
Wired Event
Noah Conference
Silicon Valley Comes to the UK
Changing Media Summit
SuperMeet
SES London
Internet World
London Film and Media Conference
INTECH
Cloud World Forum
Search Love
BACON
LeWeb
Consult Hyperion
Internet Librarian International
The Big Data Show London
ICITST
In partnership with

Big Data Week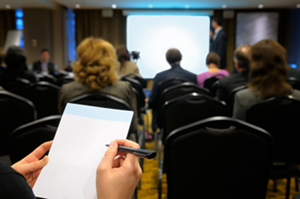 The Big Data Week is one of the world's leading events in the fields of technology, social networking, finance, media, science, and government. The event is a global platform that has helped bring together a large community of professionals interested in optimising the management, visualisation, and analysis of different types of data sets.
About The London Big Data Week
The London Big Data Week is a week-long global event held at more than 25 cities around the world, including Amsterdam, Barcelona, Berlin, Chicago, Houston, London, Madrid, Moscow, Kuala Lumpur, New York, San Francisco, Sydney, Toronto, Perth, Shanghai, and Washington D.C. This large-scale event consists of almost 200 different meet-ups, debates, workshops, presentations, classroom events, breakfast meetings, conferences, online events, demos, hackathons, panel discussions, and networking sessions. According to the organisers, more than 20,000 people attended the 2012 Big Data Week around the world.
The 2013 edition of the London Big Data Week was held between the 22nd and the 28th of April, and it attracted data visualisers, scientists, business managers, information management specialists, and academics from all over the world. Since its first edition, the event has had a major repercussion on a number of industries, including science, medical research, government, defence, banking, retail, social media, and telecommunications.
The London Big Data Week has a wide-ranging audience that includes vice-presidents and directors of marketing, data scientists, chief technical officers, finance directors, directors of business intelligence, and data miners, to mention just a few.
A Brief History of the Event
The first edition of the Big Data Week took place in 2011. The event was founded by Stewart Townsend, a business development specialist with twelve years of experience in IT marketing, business development, partner relations, and customer engagement. As an expert in big data and a regular participant in the London big data community, Townsend realised that there was a noticeable lack of interaction between the various big data communities and between the different events that took place both at local and at global level. Therefore, the Big Data Week was created with the objective of promoting interconnectedness and collaboration between the world's leading big data communities.
Location
Due to the nature of the event, the Big Data Week is usually held at different venues throughout the British capital. There are different events held at the Earl's Court Exhibition Centre, at the Churchill Rooms in Parliament Street, at Imperial College, and at several London hotels.
Organisers of the Big Data Week
Every Big Data Week is organised by local teams who also act as regular meetup organisers at other times of the year. To get involved as an organiser, institutions can register their interest with the main website at http://bigdataweek.com/organise/
Key Speakers
The London Big Data Week attracts specialists from all over the world. Past keynote speakers have included Edd Dumbill (chair at O'Reilly Strata), Scott Button (CEO of Unruly Media), Rich Radka (co-founder of Claro Partners), Gavin Starks (CEO at the London Open Data Institute), Pete Robins (founder of Agenda 21), Ashish Goel (executive at Infosys), Ian McCaig (marketing director at Qubit), Andrew Clegg (senior data scientist at Pearson), Serge Taborin (managing director at Archant Digital Ventures), and Eric Guillaume (a senior consultant with experience in the USA, Europe, and the Asia Pacific region).
Major Sponsors of the Event
Companies interested in supporting the London Big Data Week can register as sponsors by contacting the event organisers through the online application form available at http://bigdataweek.com/sponsor/
There are three types of sponsoring categories (platinum, gold, and silver), as well as other sponsorship options, such as hackathon partners, festival hosts, and launchpad sponsors.
In past events, some of the key sponsors included Oracle, Canonical, DataSift, Aerospike, Acunu, EMC2, Music Metric, Strata, Eden Ventures, and Visualzing. The 2013 event was organised in collaboration with global digital technology firm Media140, who in turn had the support of local partner organisations at each of the city hubs where the event was held, such as the Australian Government, the University of Barcelona, NoSQL Asia, Telekom Malaysia, adMarketPlace, the City of Chicago, Nokia, Datoscala, Startup Bootcamp, the Harvard Kennedy School, and Occupy Data New York City.
Other relevant information
Those interested in finding out more about their local Big Data Week calendar can visit the event's official website at http://bigdataweek.com/events/
The London Big Data team can be contacted by e-mail on hello@bigdataweek.com, and it is also possible to visit their offices, which are located at the Innovation Warehouse on 1 East Poultry Avenue, East London.
Transport to the event: We recommend that you check the Transport for London site journey planner. If travelling by car check and/or pay the congestion charge here. If you would like to travel by car but do not yet have a license visit this site for a list of London driving schools.