London Tech Conferences
London Technology Week
Big Data Week
Digital Shoreditch
Mind the Product
Wired Event
Noah Conference
Silicon Valley Comes to the UK
Changing Media Summit
SuperMeet
SES London
Internet World
London Film and Media Conference
INTECH
Cloud World Forum
Search Love
BACON
LeWeb
Consult Hyperion
Internet Librarian International
The Big Data Show London
ICITST
In partnership with

The International Conference for Internet Technology and Secured Transactions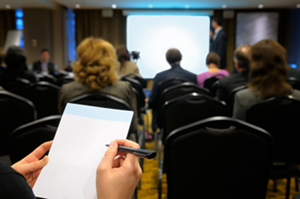 The International Conference for Internet Technology and Secured Transactions has the objective of bringing together academics and industry experts in an effort to promote the development of successful new partnerships. The event is currently in its 8th edition. The ICITST conference takes place in the month of December in London.
This conference consists of a series of academic papers, case studies, tutorials, workshops, panel discussions, and virtual presentations, which deal with subject areas like information security, cloud computing and cloud security, multimedia and web services, infonomics, applied research, secure software development, and digital forensics, to mention just a few.
The International Conference for Internet Technology and Secured Transactions is organised by a committee of prestigious academics from world-class institutions like the University of Reading, the University of St Andrew's, the Infonomics Society, the University of London, the Dublin Institute of Technology, Simon Fraser University, the Korean Aerospace University, the American University of Beirut, CA Technologies, Italy's National Research Council, British Telecom, and the National Taiwan University for Science and Technology.
Awards are given to the best paper and best poster presenters.
Talk and Workshop Topics
Papers have been delivered on subjects like biometrics, embedded systems, chaos-based data security, content filtering, social engineering, pervasive and distributed systems security, e-government, web metrics, mining and web intelligence, cloud audit protocols, fraud management, database forensics, and authentication techniques.
Past workshop topics included e-learning security, cryptography, and security in ubiquitous computing environments.
Sponsorship and Patronage Opportunities
Sponsorship (or patronage) opportunities come in seven categories at the ICITST: corporate, premier, platinum, gold, silver, conferencing banquet, and student sponsorship. Sponsorship package costs range between £5,000 and £20,000. To find more details on the sponsorship packages available and the benefits involved, you can visit http://www.icitst.org/Sponsors.html
Location and Travel Information
The venue for the International Conference for Internet Technology and Secured Transactions is the Thistle Hotel in London Heathrow. Its full address is Bath Road, Heathrow, UB7 0EQ, London. The hotel is next to Heathrow's terminal 5.
For delegates who travel by car, the venue is located off the M4 motorway and next to the M25. On-site parking is readily available.
Further Information and Contact Details
For detailed information on submissions and on the topics covered at this event, you may visit the main website at http://www.icitst.org/
General enquiries can be sent by e-mail to info@icitst.org
Transport to the event: We recommend that you check the Transport for London site journey planner. If travelling by car check and/or pay the congestion charge here. If you would like to travel by car but do not yet have a license visit this site for a list of London driving schools.